Fast track your business growth with a free billing app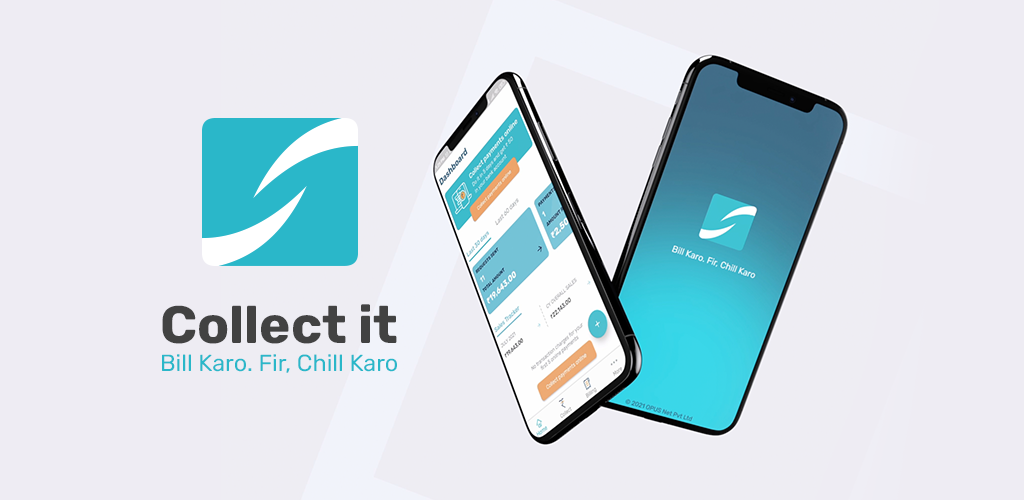 Remember when small business owners would have a customer support executive of sorts, traveling with his sheaf of bills to collect payments and reminding customers to make payments?! How many of those do you see these days? More importantly, when was the last time you used a "bill book" to create an invoice?
Small and medium businesses need a billing app that streamlines billing procedures and helps collect payments faster. With the Free Collect it - Billing and online payment collection app, you can get the convenience of sending invoices and collecting payments from the palm of your hand.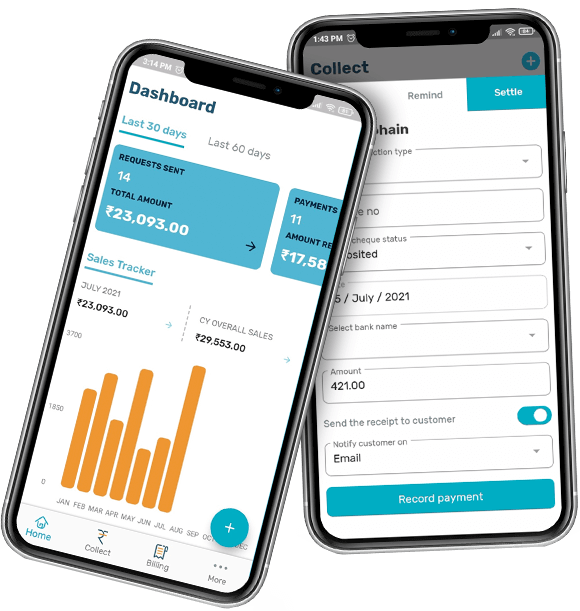 Here's how the Collect it - Billing and online payment collection app can help fast track your business growth:  
Standing in the hall of fame 

And the world's gonna know your name
-The Script
Create and Send Quick Bills
Create crisp quick bills to customers in your contact list in just a few clicks!
Send invoices to your loyal customers with personalized messages from your phone's contacts. Add payment details like bill amount, due date, and a friendly message. Your customer will get the quick bill via email, SMS, and WhatsApp, with multiple online payment options.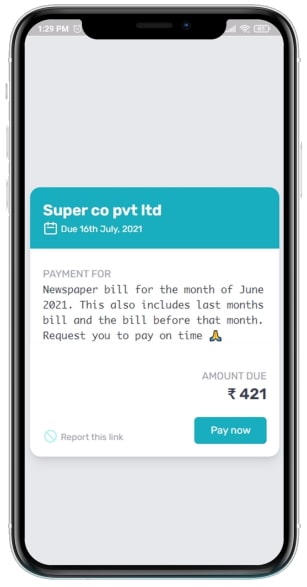 After the payment has been completed, both you and your client will receive an auto-generated payment receipt via SMS and email. The collections dashboard will update the status of your payment and the money will be transferred  to your bank account.
Streamline your billing process and collect payments faster from your phone, anytime, anywhere.
Provide multiple payment modes
Give your customers multiple payment options which include UPI, credit/debit cards, e-wallets, and net banking. Ensure faster payment collections and an easy transition for small businesses that have traditionally preferred cash transactions for their business operations. Track recurring payments and online transactions from a single dashboard.
Automate payment reminders
The billing app will automatically notify your customers about pending invoices and payment details via SMS and email. Once you create a quick bill or invoice via the free billing app, your customer is reminded on the day the bill was raised then 3 days before the due date, 1 day before the due date and on the day the bill is due automatically. 
Upon successful payments, both you and your customer will be notified and the automated reminders will stop as soon as the bill is paid.
Track unpaid bills
Even after you adopt online payment collections your customer might still want to pay you using cash, cheques or NEFT. Keep track of all of your outstanding collections and unpaid customer bills on a single dashboard.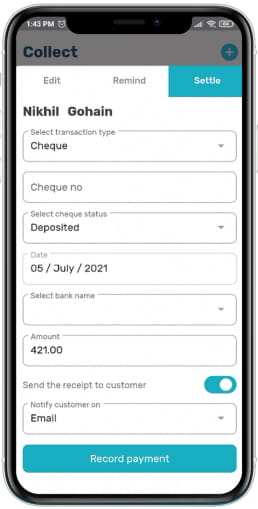 You can settle unpaid bills if your customers choose to pay their dues offline via cash, cheque, or NEFT/IMPS. Manage all your clients' payments from a single app no matter how they pay your billing app is equipped to record your collection information.
Manage customer data and more...
Sync crucial details like their company name, contact information, payment method, billing frequency, and more so that they're easily accessible in just a few swipes. Your customer data and information is ever changing. Your customer may change their address, mobile number or email ids. The free billing app makes it easy for you to keep a track and stay updated with all your customer contact information
Manage customer data, add new clients, product details, and more. Simplify creating and sending recurring invoices with attractive bills with the amount due, due date, and multiple options for offline and online payments.
This way when you raise a bill you can rest assured your bill has reached your customer and not someone else!
Get a 360-degree view of your payments
Stay on top of all your collections and dues. Track the growth of your business with our monthly sales tracker which illustrates the financial health of your company. Easily track customers who are behind on their payments.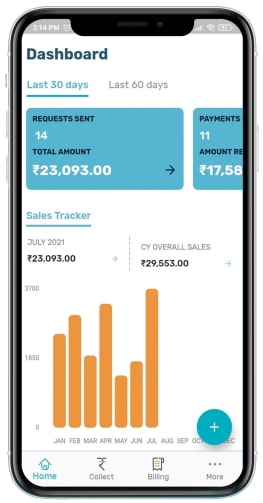 Get a snapshot view of both the money you have received and the amount that is due.
Swipez's Collect it - Billing and online payment collection app, it's completely free to use forever! The app helps you create and send bills & invoices with online payment options, collect and track payments. Trusted and used by 18000+ medium and small businesses across India for their billing and invoicing needs.
Get your Swipez's Collect it - Billing and online payment collection app today!Android billing appiOS billing app