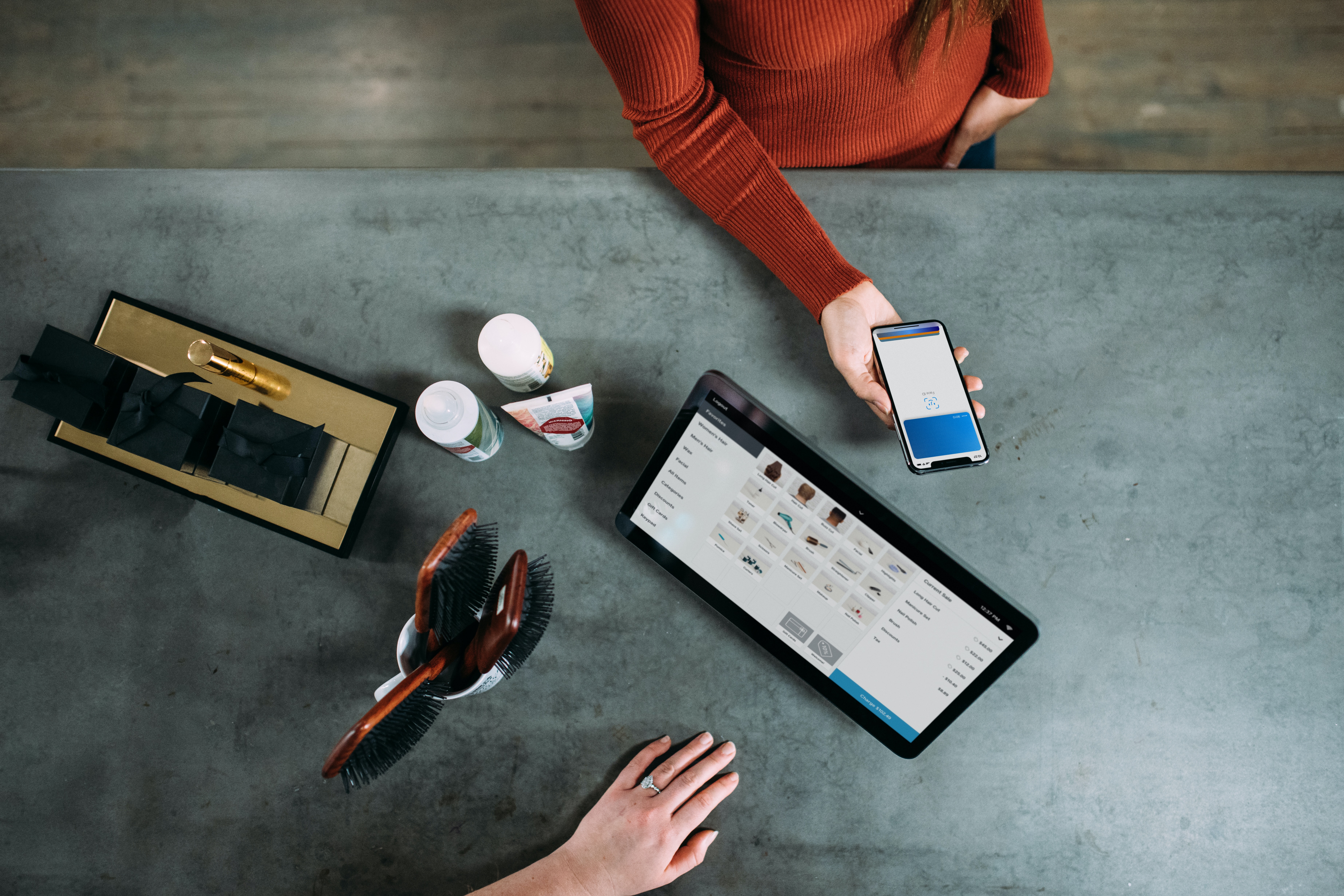 Cashless and Contactless. These aren't buzzwords or sales/marketing campaigns for millennials. In the post-pandemic world, these are absolute essentials. True, almost everything was well on its way from analog to digital. If anything, the COVID-19 pandemic has emphasized the wisdom of adopting digital solutions, fast-tracked innovation and engineering. 
You no longer need to make room in your pockets for cash and coins. How many hands do you think it changed before it came into your pocket? *gasp* You don't even need to use your credit/debit card when you can make payments with mobile billing apps on your smartphone.
Go ahead and take care of business for me

- Nina Simone
What is a mobile billing app?
With more than 6.3 crore MSMEs in India, billing and invoicing apps that let you manage and run your business effectively is a godsend. There are a number of billing apps in India that help streamline billing processes with different features and advantages. Some are designed especially for medium and small businesses. 
The best billing and invoicing app for you would depend on your requirements. No matter at what stage of growth your business might be, we have a mobile billing app that's right for you.
Here is a list of the best billing and invoicing apps of 2022
1. Collect it - Billing and online payment collection app Swipez
Swipez's Collect it - Billing and online payment collection app is one of the best billing and invoicing apps available. Tailor-made for small and medium-sized businesses, it is a one-stop solution for all your billing and invoicing needs. 
Trusted and used by 18000+ businesses across India, Swipez helps you create and send invoices with online payment gateways, collect and manage payments, and build and organize product/service inventory.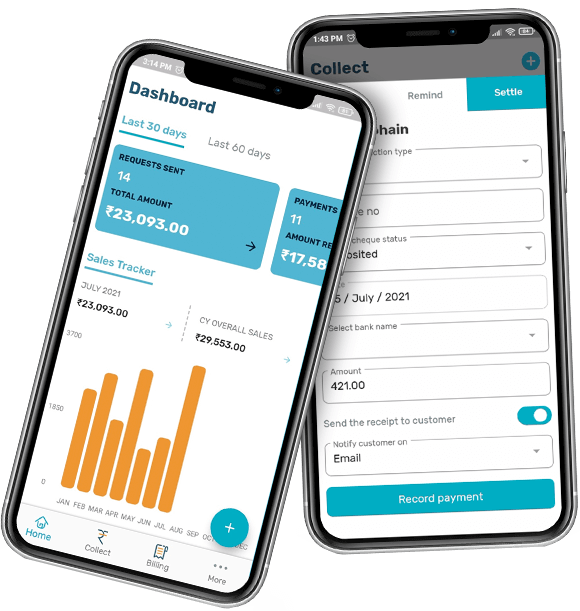 The mobile app of Swipez's billing software comes with features like:
Organize all your business contacts in one place, whether they are customers, vendors, or franchises. Sync important details like their company and contact information, mode of payment, frequency of billing, and more so that they are easily accessible.
Create bills for the synced contacts with personalized messages, your company details, payment details like amount, due date, and payment link. Your clients will receive the bills via SMS and email, with the online payment gateway. 
Once payment is processed, both you and your client will be notified via SMS and email. The payment collection dashboard would reflect the status of your payment, once the funds are successfully transferred to your bank account.
Make payments easier for your customers by adding online transaction links. Accept payments from your clients via UPI, credit/debit cards, e-wallets, and net banking. Track invoices and monitor your payments on the collection dashboard to evaluate your sales growth on a monthly basis. Keep on top of overdue invoices and send payment reminders to your customers for the pending payments.
You can also make payments of your own but adding your vendors and suppliers to your contacts. Streamline your payment processing by scheduling payments to your vendors/suppliers, automate recurring payments, and payment reminders via SMS and email.
Your clients will receive a notification of the bills sent to them along with online payment links via SMS and email. You can also set up automatic payment reminders to notify your clients about unpaid bills to ensure the timely and consistent collection of dues. 
Once a bill is successfully paid, both you and your client will receive a notification, and the amount received will reflect on your payment collection dashboard. 
Create invoices by adding product details like name, number, etc along with applicable taxes and payment details. Create and manage recurring invoices with customizable invoicing templates to suit your business needs. 
Simplify GST calculations on your invoices and the different items in them with Swipez's billing app.  
Get your Swipez's Collect it - Billing and online payment collection app today!Android billing appiOS billing app
2. Khatabook
Khatabook helps small businesses manage their accounting digitally. A digital ledger book that records and tracks daily transactions, offers online payment options and account management.
Its features include:
Each customer's information is recorded separately along with payment details like the amount and due date. With an unlimited number of customers and records, you can record every transaction along with their details. Once recorded, the amount debited or credited is automatically calculated.
Organize the different customer records with customizable filters like name, transaction amount, or due date. You can also assign priority to the different records by filtering them by their transaction status like accounts receivable, payable, or settled.
Create a business card for one or more of your trades. You can distribute these cards to your associates and customers via the app itself.
3. Zoho Invoice
Zoho Invoice helps small business owners and freelancers craft professional invoices and build customer relationships. 
It offers online payment options and records offline transactions. You can track the number of hours spent working on a project, create automated workflows, and record expenses.
Zoho Invoice includes features such as
You can organize your different clients and share details of the project with them like the status of a particular task or the personnel assigned to it. Give your clients a preview of the logged and billable hours.
Better suited to freelancers and consultants, this feature lets you log the hours spent on a task. The billable hours are recorded and reflected on the amount payable when sending invoices to clients.
This feature lets freelancers and consultants keep track of the expenses that need to be reimbursed by the client. You can upload images of the receipts, record and track reimbursable expenses. These can be attached to the invoice before they are sent to the client. 
4. Vyaparapp
Vyaparapp offers accounting, payment, and invoicing solutions for small business owners. You can create and send invoices, track orders and deliveries, record expenses and cash flow. 
Its features include:
You can use the mobile app offline to create and print invoices. You can monitor and receive payments through cash and eWallets in the offline mode of the app.
Better suited for vendors and small businesses that deliver goods, this feature lets you track the status of your order. Receive notifications when the product/goods are safely delivered to the recipient. You can also convert a delivery challan into a bill.
Monitor expenses, taxes, pending and resolved payments for different clients. You can also build revenue reports with the financial data for different accounts.


Which billing app is best
for your business?
Your invoicing solution needs to be able to accommodate and fast-track your growth with comprehensive invoice options like unlimited invoicing, customizable invoices, templates for multiple currencies, account management, and more. 
You need an app that can send customized invoices to your various clients, schedule payments for both your clients and vendors, and automate invoices for recurring billing. It needs to enable payment collection, send payment reminders, and track overdue invoices. 
Can billing apps accept payments?
Swipez's Collect it - Billing and online payment collection app can accept payments, create and send payment reminders, and monitor unpaid invoices and payment collection on its dashboard. 
Can billing software calculate GST?
Swipez's billing software automates GST calculations for your growing inventory so that your time isn't spent in the critical but tedious task of adhering to tax regulations.
When choosing mobile apps for your invoicing and billing solutions, it is important to look as much towards the needs of the future as the present. You might be a freelancer/consultant, a three-man startup team, or a small business owner with a handful of clients but you are going to grow. Choose a billing app that will grow with you and help you at each stage of your business. 
Want a more traditional base of billing operations from your desktop/browser, check out Swipez's blog on the best billing software programs.