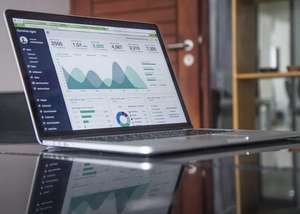 5 free business management softwares for business automation in 2020
We have begun to embrace the fact that some aspects of a business are better handled by computers. In matters of web development, high-data documents, and time-sensitive events, software solutions are now more than welcome to streamline our business for us.
Here are five free business management software solutions that can streamline your operations through automation. Typically a business would need some or all of these software solutions for automation depending on their requirement:
Billing software
Event registrations software
Venue booking software
Responsive website builder
URL shortener software
Billing software
"Proper invoicing inspires confidence in customers that the payments have been processed securely"
There are many subtle nuances around the particulars of invoicing - receipts vs. invoices, dates and numbers, return orders and credit purchases, taxing and discounts, etc. Each of these is an integral and inevitable part of a formal billing.
Uniformity promotes better management but is a challenge with regard to growing businesses. Without appropriate business management software, you may not be able to keep track of your company's invoices the way you should. Automating this information-dense part of your business can positively streamline your productivity.
PayPal — payment collections and basic invoicing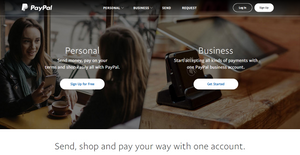 It is essential for invoicing software to be simple in its use. A familiar, simple, and free business management software to consider would be Paypal.
If you are someone who just needs an Invoicing tool and not an entire accounting system, then Paypal, which is ideally a payment transfer solution, can help you create invoices. You can customize invoices as per your brand, or you could just keep it simple and send professional, one-off invoices.
If you are someone who needs more than this, then check the following options :
Tally.ERP 9 — complete billing software with inventory management and accounting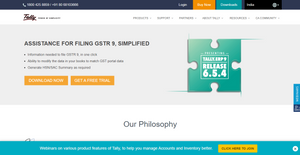 Tally.ERP 9 is a simple invoicing software for small businesses. It features powerful solutions for managing accounting, inventory, banking, payroll, and more. You can always consider trying this popular software on a free trial. It is a desktop based software with per user per year licensing post free trial.
Due — Free online invoicing software for freelancers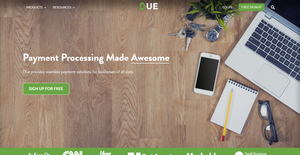 Due is a delightfully minimal yet engaging invoicing solution with powerful features that also considers the needs of small business owners and freelancers. Due is a cloud based invoicing software with payment integrations with PayPal. 
Swipez — Billing software with payment gateway integration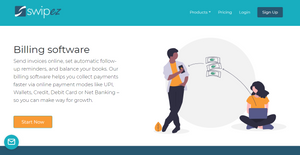 You can power up your business by true invoice automation, which would enable you to perform a long list of tasks. These include online payment collections, creating recurring invoices, setting automatic reminders as per due dates, accepting part-payments and tips, adjusting discounts and shipping fees, and detailing tax information. 
You can also harness true invoicing power by setting up auto-debits and integration with your accounting processes. With your business growth, accounting goes beyond invoicing. Thus, let the automation software handle this for you.
Event registration software
"Expectations and the tone for an event are set during registrations, and are, therefore, profoundly important."
Event management companies are only too familiar with the importance of customer experience, which begins right from the registration — well before an event even starts. 
You don't want willing, potential attendees to be missing out on opportunities or events, simply because the registrations weren't managed right. Improper registrations can also affect the user experience when they arrive at the location due to mismatched expectations.
Almost everything crucial about an event (date, time, duration, agenda, venue, attire, ticketing, etc.) is supposed to be disclosed on an event's page during registrations. Error avoidance is particularly tough when events are decided in the spur-of-the-moment, and the limited time available is required for setup or publicity.
Hubilo — Comprehensive event management software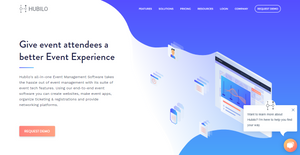 A business management software knows the significance of timing and accuracy, and the Hubilo software is an option worth trying.
It's an easy-use, small business management software that provides a clean interface for managing event registrations. Your business can quickly set up event pages that accept different payment methods, are visible on multiple platforms, and keep it simple for people to RSVP.
You could also try these free event registration softwares
Swipez — Event registration & online ticketing for events of all sizes
An easy to use event builder page allows you to publish an event online within minutes. Provides you total control on your attendee data, unlike other event platforms. Provides QR code based tickets to your attendees and a QR code scanner for you to organize your box office entry on the day of your event. Free to use with no commissions charged on your ticket sales.
Bookwhen — Online booking system with flexible event setup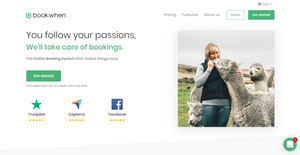 This is a good event software solution for recurring and or one-off activities for a wide range of categories like school events, performance arts, health and fitness, etc. Wide ranging feature set makes this a good option to consider for your events. They provide a Free trial to experience their offerings before making a purchase.
Attendize — Open-source ticket selling and event management platform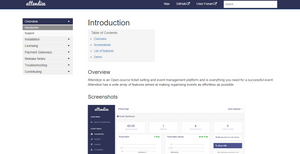 Attendize is a good open-source option that specializes in ticketing and event management solutions. The user experience is designed to be easy and functional, right from event creation to the dashboard, while keeping it simple for the user. This will require some technical knowledge at your end to setup on your own server and host the solution for yourself.
Venue booking software
"An empty venue is an investment going stale."
Venues are a competitive interest, and everyone wants the best of the best. This is why your location's visibility matters a lot. With everything happening online, being listed in the right places can be your best bet at getting booked.
Online bookings are made easier with transparency and detailing. It is important for people booking your venue to have all the details about your rules and regulations as well.
Making sure multiple bookings proceed in the most timely manner is a management concern too. With concerns regarding over-lapped booking, scheduled appointments, and multiple payment sources, venue management tends to become a very time-sensitive style of administration.
These concerns can be alleviated through software solutions that allow you to manage time slots across venues, publish your booking calendar to your customers, and accept multiple sources of online payment.
Skedda — Free online booking and scheduling for your venue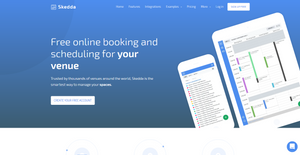 With a free signup, Skedda appears to feature all the ingredients required to manage your space intelligently. It allows you to give customers the flexibility of easy booking and canceling online. The software allows user management through custom tags for client-specific features like pricing and quota allowances.
Meeting package — Booking organizer for meeting rooms and venues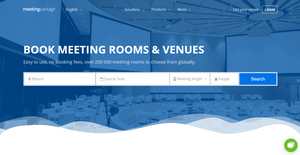 This is a good meeting space booking platform with various solutions for venue management. It allows you to manage your inventory distribution and optimize your revenues by enabling real-time bookings.
Swipez — Venue booking software for calendar and time slot bookings of venues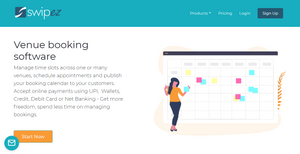 The right software has the ability to empower clients to book online and see your venue as a comfortable, reliable option. Swipez lets you ensure maximum utilization, help clients manage memberships/renewals, and ease on-ground activities.
Function tracker — Venue & event management software
An exhaustive 30-day trial lets you manage scheduled bookings, staffing rosters, and also event coordination. A good cloud-based solution using a simple and intuitive interface. Also provides integrations to Dropbox, Google drive, Mailchimp and host of other services. Learn more.
Responsive website builder (with integrated payment gateway)
"To say that the 21st century will unfold online is an understatement."
All things, like selling products, spreading information, campaigning, advertising, and promoting, today, start and end with a reliable website. These sites have to have responsive web designs to fit the multiple browser options and screen sizes today. They must also be integrated with a payment gateway that makes a website functional, instead of behaving like just a show-piece. It would be a shame to lose money simply because a website isn't set up to accept payments.
Making sites engaging, colorful, and on-brand can mean the difference between creating a lasting impressing or being scrolled over.
Constant revamps, adding sister domains, and onboarding newer facets of business lead to a permanent requirement for website building.
Wix — free online website builder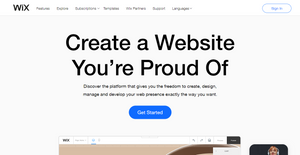 Fast, automated website builders have become the norm for publishing web pages effectively. Landing pages are sometimes time-sensitive necessities, and, therefore, require the quickest/easiest software to get the job done. Wix is a free software solution that offers stunning templates to choose from along with the option of customizing domains. Learn more.
Site123 — easy to use website builder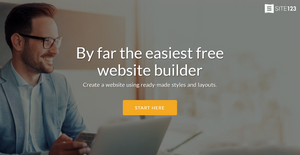 With ready-made styles and layouts, Site123 lays emphasis on its simplicity. It also has ability to host an online store to sell your products. It has a free tier with a generous 500MB storage. Learn more.
Webstarts — Website builder for online stores or blogs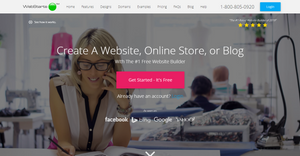 A free feature-heavy solution to suit various website use-cases, right from blogs to online stores, with the benefits of automatic domain setup and search engine submission. Provides a free tier with 1GB of cloud storage. Learn more.
Strikingly — Easy to use website builder for selling products or hosting blogs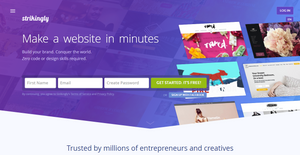 A good solution for free layouts for small businesses looking to keep it simple. With ability to create sign up and contact forms. Their free plan provides unlimited free sites as a sub-domain.
Swipez — Website builder with online payment collections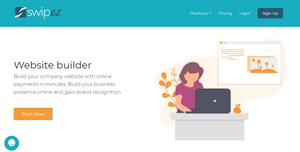 An 'online-in-minutes' solution that is both mobile-friendly and enabled with payment collections. The key benefit is that the Swipez Website Builder enables you to list your products and packages on the website and, at the same time, receive the payment from the customer. Combining your website builder and invoicing solution can improve your business scale with reduced operational overheads.

Any easy-to-create site can significantly facilitate the effectiveness of social media campaigns. The truth today is, if you aren't online, you don't exist.
URL shortener software
Sharing links is a useful method of showing viewers more web pages related to your business. It is also a great way to get them from any one place on the internet — directly to your website.

While hyperlinking used to be a way to avoid the sharing of links, there are still too many platforms where it isn't possible. Space constraints have made it a necessity to either cut the message you want to deliver or avoid sharing the link that people need to visit.
They also make for smoother scrolling, which further eliminates the risk of accidental clicks. It enables quick marketing when the software is integrated with other applications and improves the user experience on chatbots, messengers, and other media campaigns. True automation would allow you shorten URLs with a single click and have it shared in any location, any number of times.
Bitly - URL shortener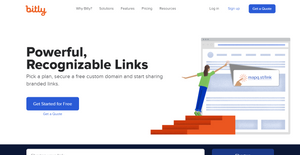 Small business management software like Bitly understand the constant need to shorten URLs.

Shortening the URL makes for trimmed and appealing web content, which has been shown to make people want to click on it. Short URLs are perceived as a respectful way of sharing a source, as opposed to a rude barrage of a string of letters and numbers that make no sense to a viewer.
Google URL shortener — has been discontinued
Google URL Shortener, also known as goo.gl, is a discontinued URL shortening service offered by Google. It was succeeded by Google's Firebase dynamic links service.
Swipez — URL Shortener for businesses of all sizes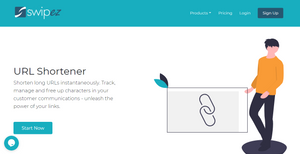 A comprehensive solution that allows for scalability, and customized domain URL shortening. The click tracking & analytics feature is a valuable addition that helps businesses gain insights on online visibility. Transactions and notification frequency on mobile phones are at an all-time high, and having a short URL based on your domain can uplift your brand significantly.
Harnessing the True Power of Software
Each of these activities discussed above, like billing, event registration, web building, etc., are integral parts of any business today. Every software is able to automate the business management to a certain extent, but few are able to automate all-in-one.

Check out our business automation software here.