Technology
What is a free online invoicing software?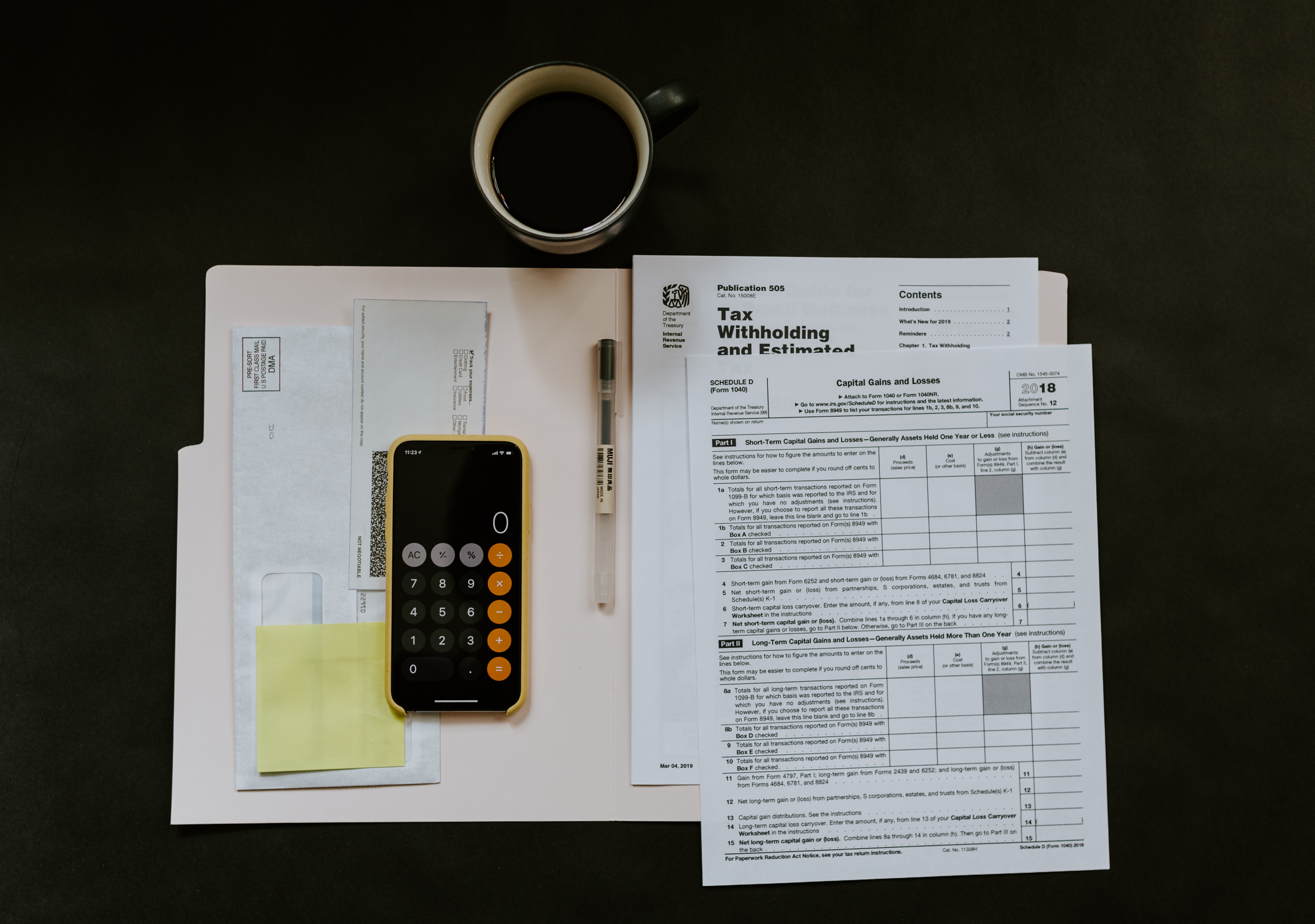 What is an online Invoicing Software? And how is it beneficial over a traditional accounting and billing software?
An online invoicing software is a tool that helps businesses generate an electronic bill for products or services they have provided to their customers. Invoices have traditionally been recorded on paper, habitually with multiple copies generated so that the buyer and seller each have a record of the transaction for their records. Currently, computer-generated invoices have reformed the scenario. They can be printed on paper on demand or sent by electronic communication such as email and SMS to the parties of a transaction. Electronic records also allow easier searching and sorting of particular transactions or specific dates. Invoicing software have numerous benefits when compared to traditional accounting and billing software such as minimized late payments through automated delivery and payment reminders, easy payment tracking which gives your business the ability to assess cash flow and track any missing payments, cultivate a professional company image through personalization, customizing invoices to their specifications and utilization of automated billing for recurring payments.
Features of an Invoicing Software
With the utilisation of an online invoicing software, a business can keep track of money inflow more effectively, provide different payment options to clients, process payments faster, and even personalize invoices. It provides businesses with ease for usability, no risk of invoices getting lost, human error, enhanced functionalities, taxation compliance, helping in saving money, etc. Such software allows business owners to focus on other important matters while billing, collections and reporting is undertaken by the software.
Following are some of the best free invoicing software available
Swipez Billing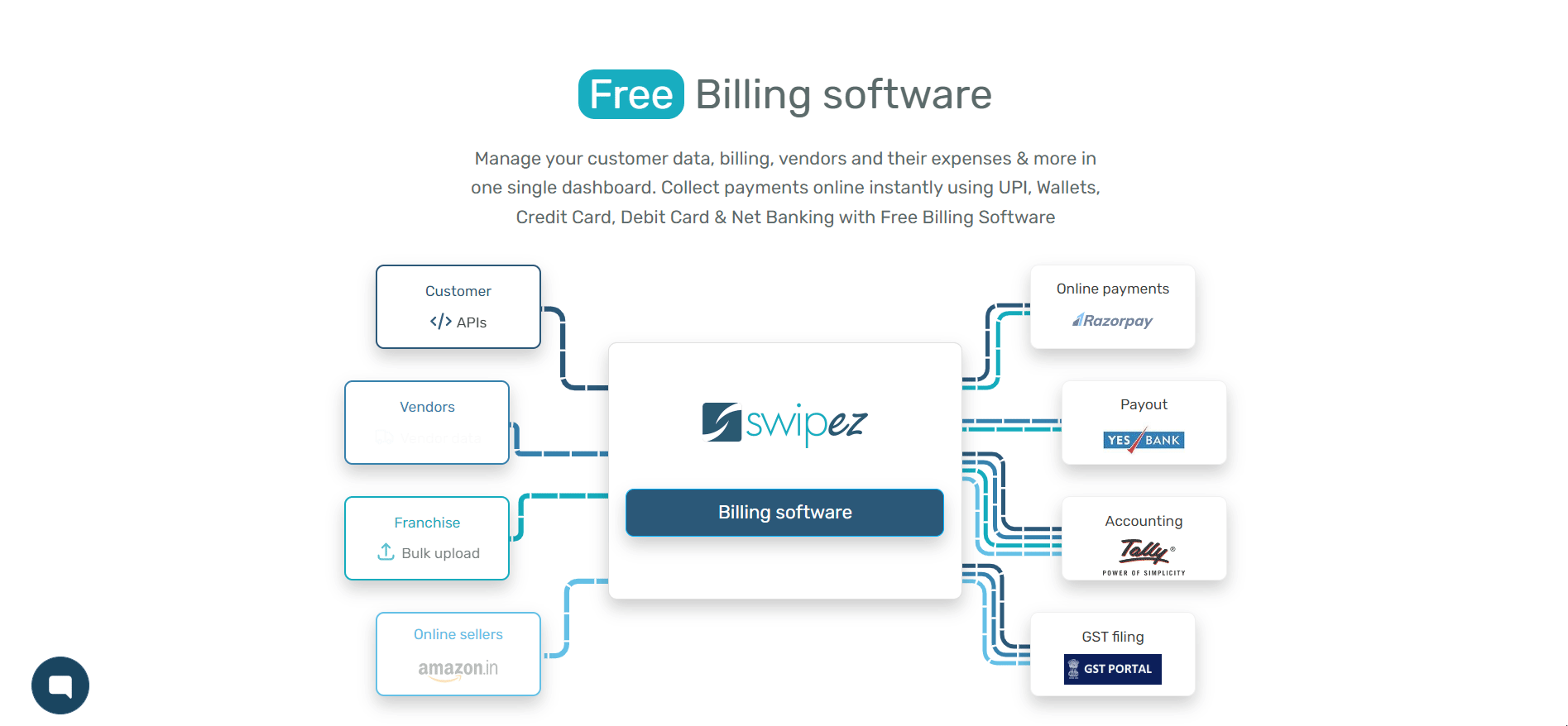 Swipez Billing streamlines business operations by automating invoicing, payment collections, bulk payouts, GST filing & customer data management. It enables you to send invoices online in customizable formats, where you can setup your invoices look and feel to match your businesses billing requirements and branding. It notifies customers of their bills via email & SMS as well as automates follow-up reminders so customers know when their bills are due. It also offers multiple online payment modes like UPI, wallets, credit or debit cards and netbanking to ensure customer convenience. Swipez helps you reconcile payment data from multiple sources in one platform which lets you balance your books. Swipez also lets you download industry specific billing formats, so you can experience all their features without registering. It integrates your customer data, accounting data, and collections data under one roof so that you can maximize customer value more than ever before. 
Features:
Build invoices as per your needs
Automated payment reminders
Bulk invoicing made simple
Create and send estimates
Settle invoices paid offline centrally
SMS & email invoice notifications
Send recurring invoices
Auto-debit customers wallet for recurring payments
Extensive real time reporting
Invoice2Go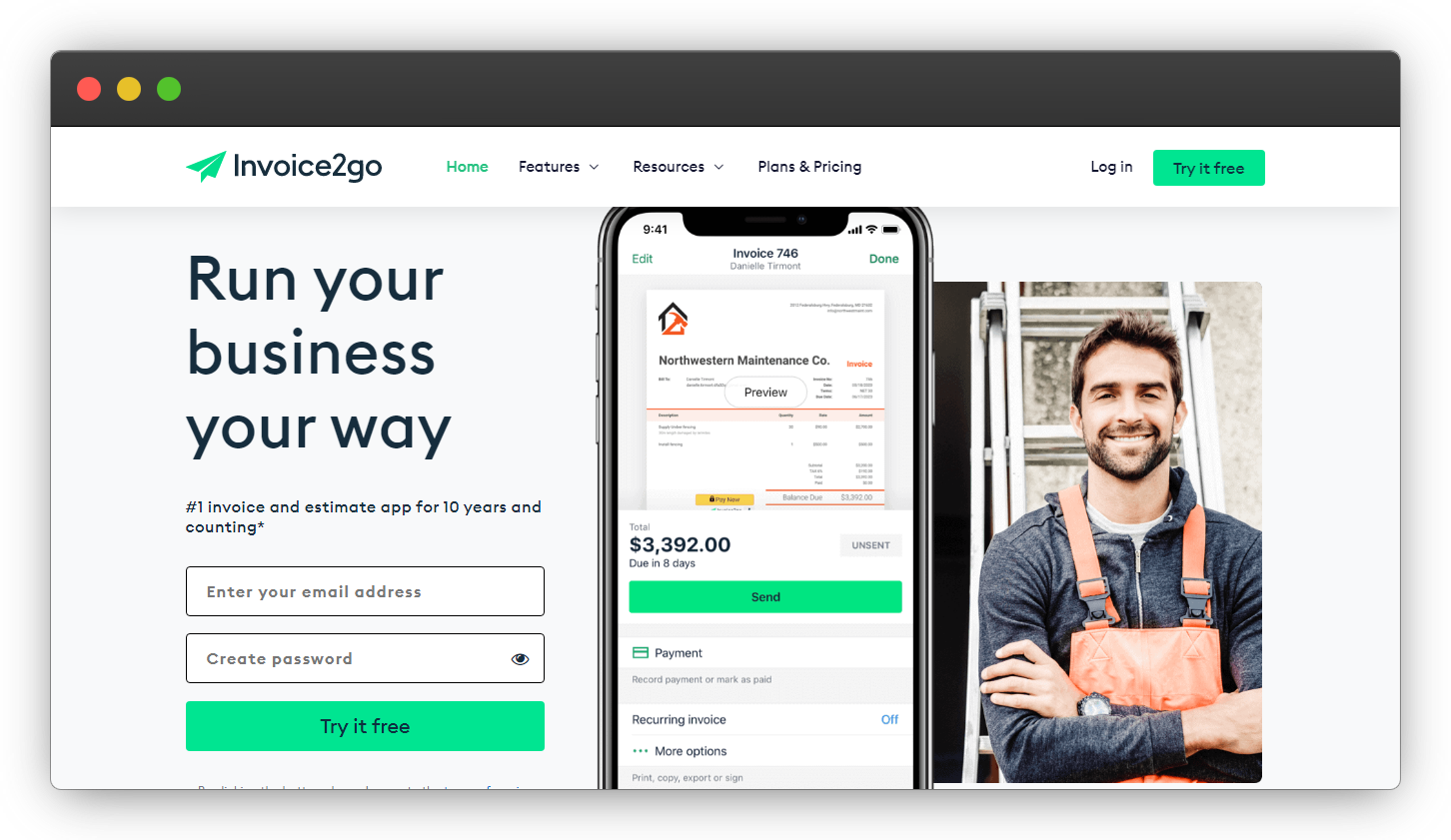 Invoice2go allows you to add invoice templates and track your invoices. This invoicing and billing software gives you a view of sent, opened, and due invoices. Customers can make the payment through online payment modes  while using this invoicing and billing software. It also enables you to track your invoices and get information on when your client opens and reads the document. You can use this information to approach the client to follow up for payments.
Features:
Accounting

Customer management

Expense management

Invoicing

Payment handling

Product database

Supplier and purchase order management

Recurring invoice

Taxation management
Zoho Invoice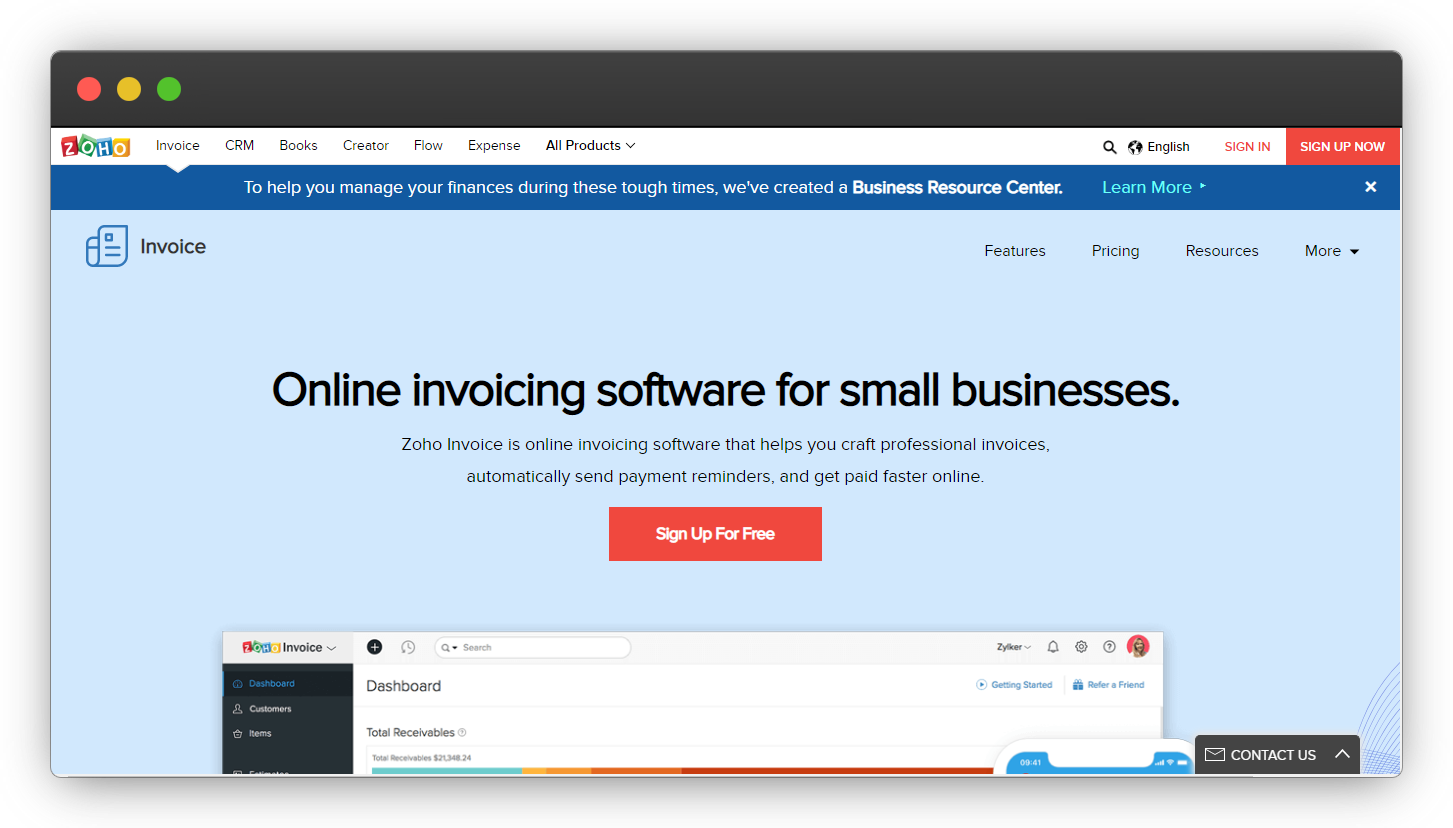 With Zoho Invoice's feature set you can access the ability to set up workflows to automate tasks such as scheduling triggered emails or calculating and adding discounts, late fees, and due dates. You can set up an email alert to go out when an invoice is created or overdue, or you can schedule an in-app notification for the finance team whenever an invoice is paid. The most powerful features, however are the custom functions. These allow you to write small pieces of code using Deluge script to automate invoicing processes. For example, you can write a script to automatically calculate and add a late fee to overdue invoices. Or you can create a function to provide a 5 percent discount if payment is made before the due date.
Features:
Banking integration

Customer management

Expense management

Multi-user login & role based access

Payment gateway integration

Payment handling

Project management

Quotation & estimates

Multi-currency
Apptivo Invoice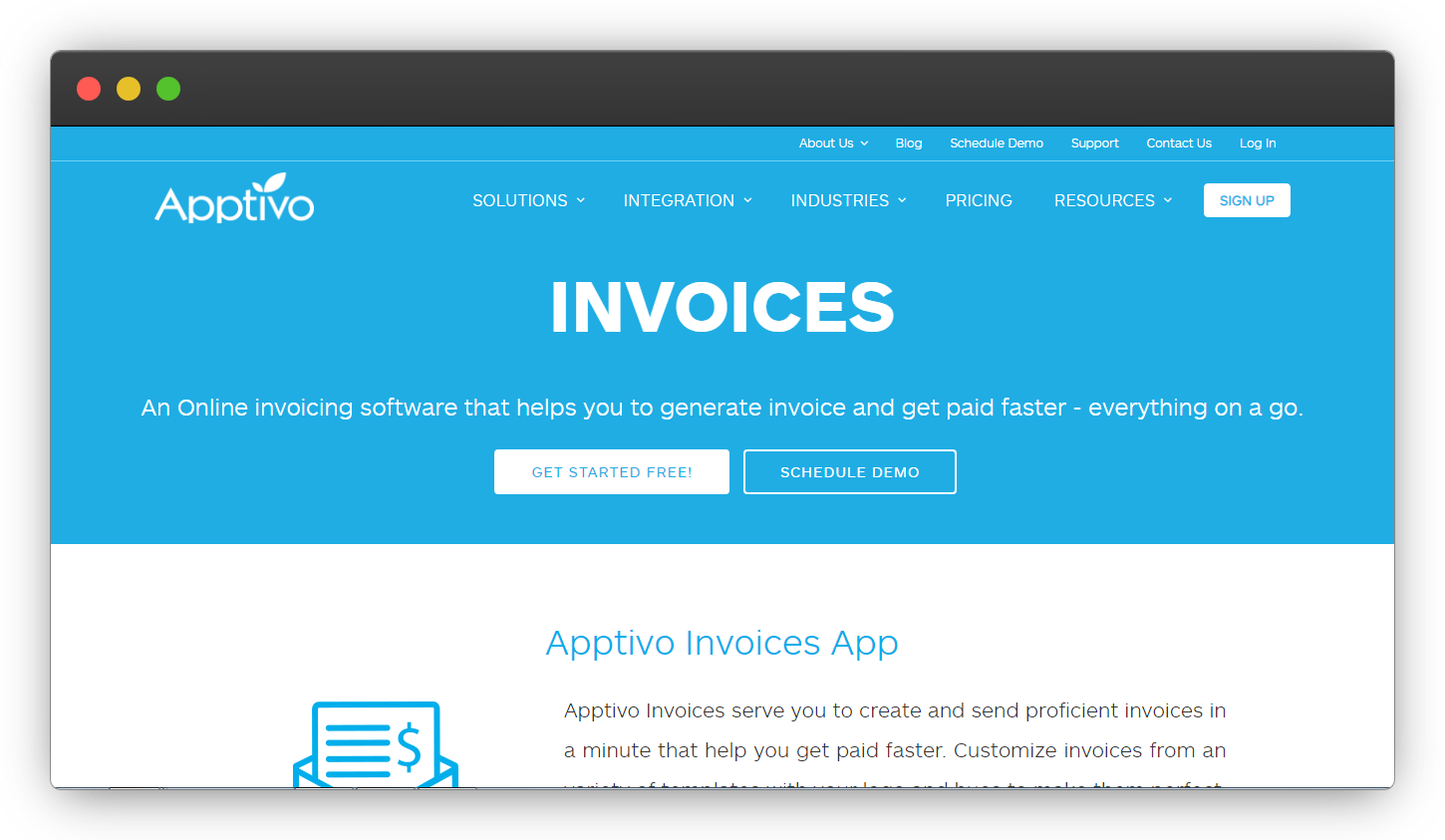 Apptivo Invoice lets you  create and send proficient invoices in a minute that helps you collect dues faster. You can customize invoices from a variety of templates with your logo and hues to make them perfect. It also enables you to see overdue invoices and sends reminders. Apptivo makes it possible for users to collaborate on tasks with colleagues and customers, consequently boosting productivity and efficiency. Tasks such as appointments and call logs are also automatically updated, enabling users to view project progress.
Features:
Project management

CRM 

Timesheets

Recurring billing software

Mobile invoicing application

Custom PDF invoice templates

Reports
Invoicera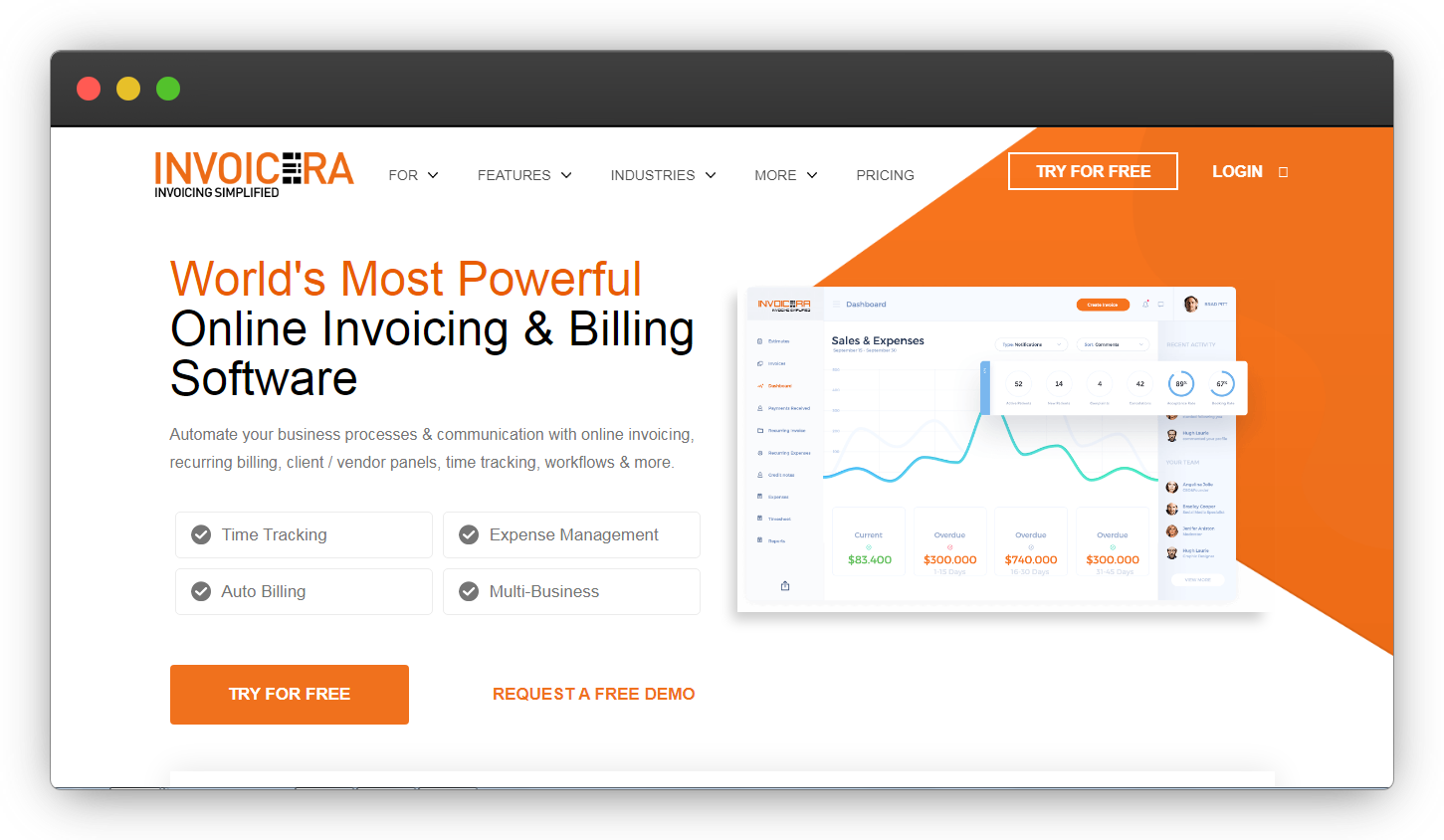 Invoicera is an easy-to-use online billing solution for professionals, small businesses, and enterprises. It is a good answer to numerous invoicing issues for freelancers like lawyers, web developers, consultants, also as for small businesses and enterprise firms of varied natures and sizes. It is also ideal for service providers that supply computer & information technology services, like web hosting. Anyone who wants to send invoices in their businesses can benefit from Invoicera.
Features:
Expense tracking

Recurring billing

Cost and timesaver

Multi-language & currency support

Late payment reminders

Time tracking

Instant payments

Estimates

Automated billing
InvoiceBerry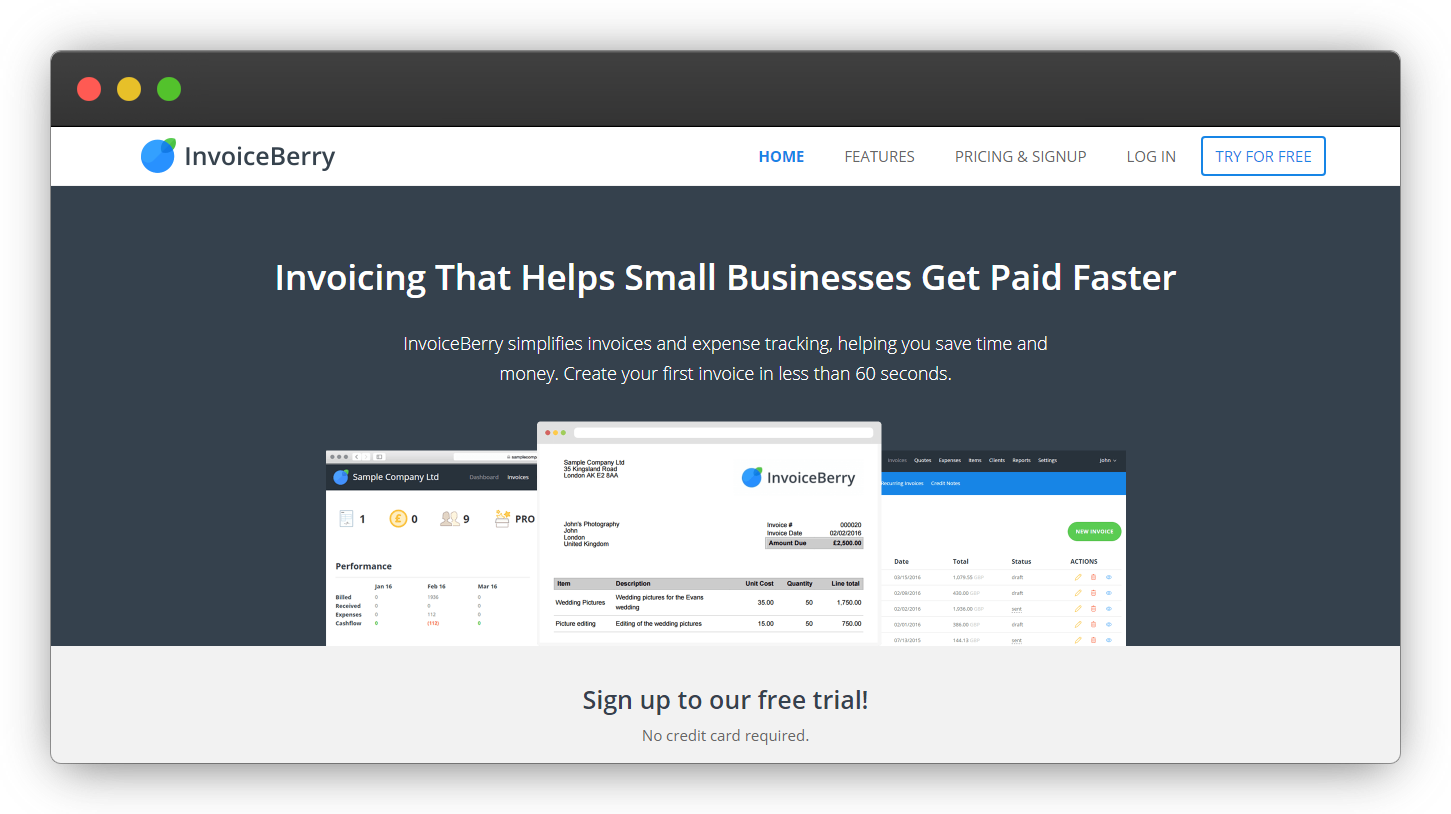 InvoiceBerry is a simple and fast online invoicing software that can be used from any computer, laptop, or tablet from around the world. Small businesses and freelancers can create, send, and manage their invoices with an easy-to-use and maintenance-free Invoiceberry account.
Features:
Accounting

Customer management

Expense management

Multi-currency

Multi-user login & role based access

Payment gateway integration

Product database

Quotation & estimates

Recurring invoice

Vendor management
Easy Invoice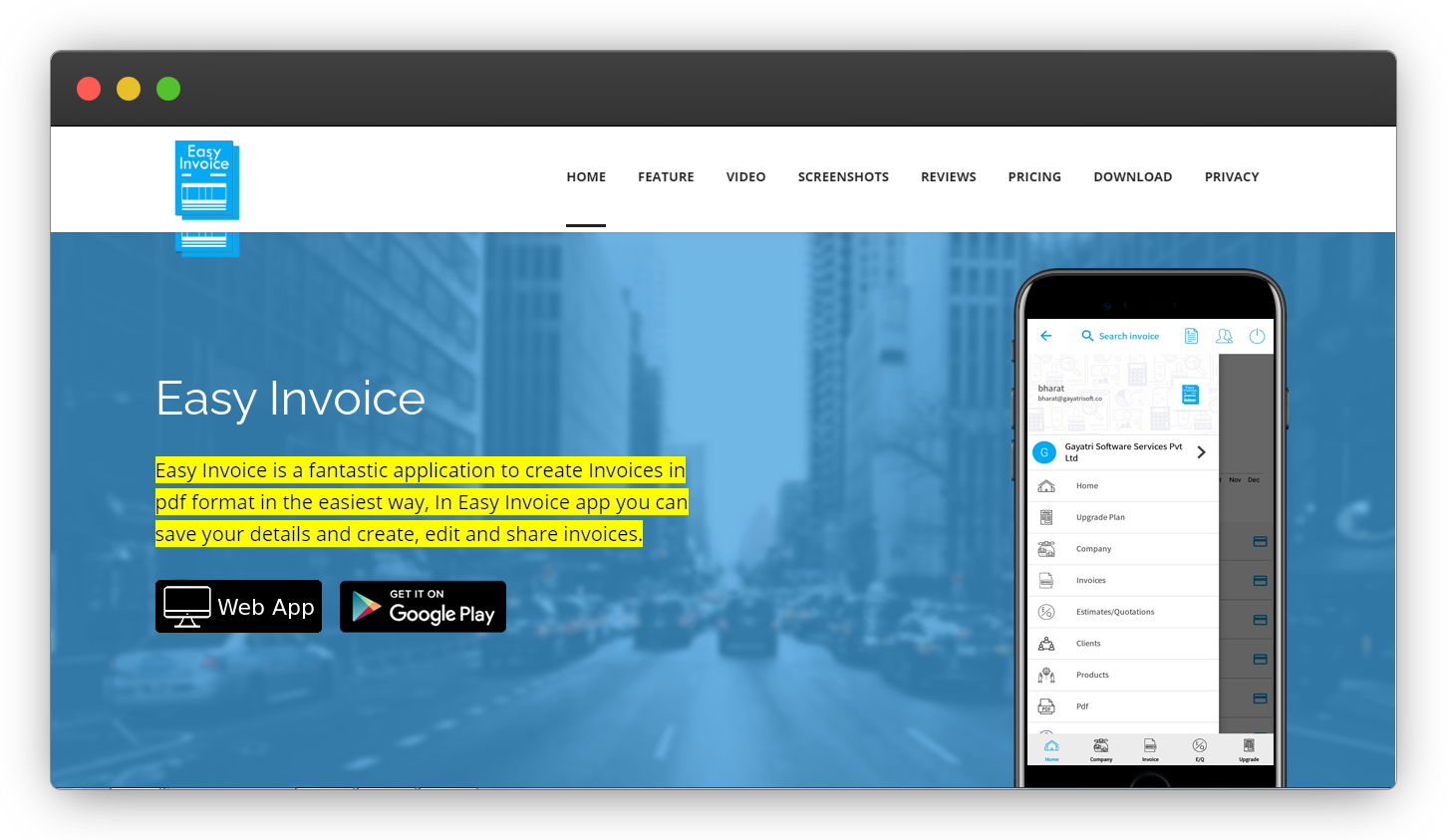 Easy Invoice software allows you to create customisable, professional invoices in seconds and lets your customers pay instantly. You can remind customers or chase late payments with inbuilt automation. It is very easy to use & there is no training required for invoice management. It has a powerful search operation to facilitate the selection of customers based on each field.
Features:
Time tracking

Multi-currency

CRM

Document management

Financial reports

Corporation taxation flows
Express Invoice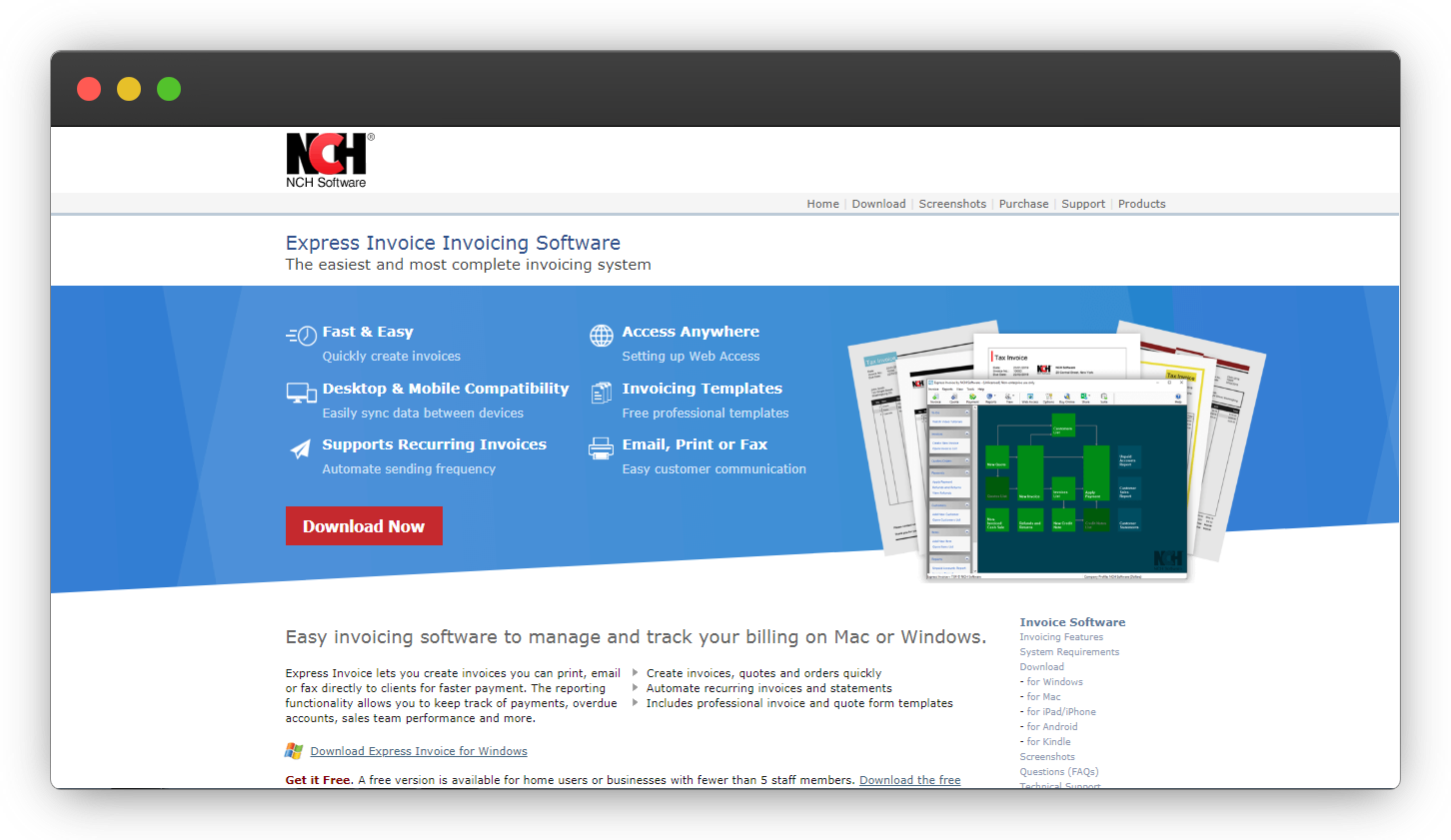 Express Invoice allows you to create invoices you can print, email, or fax on to clients for faster payment. The reporting functionality allows you to stay on track of payments, overdue accounts, sales team performance, and more. It creates custom invoices, quotes, and orders. Besides, it has a web access mode that can support more than one user. It also supports mobile access via access to the web interface. Express Invoice offers most of the invoicing tools we are looking for except time billing tools. It can create standard invoices easily. To accommodate the global market, it supports multiple tax rates and currency symbols as well. 
Features:
Multi-currency 

Contact database

Project billing

Recurring billing

Customizable invoices

Tax calculator
Invoice Ninja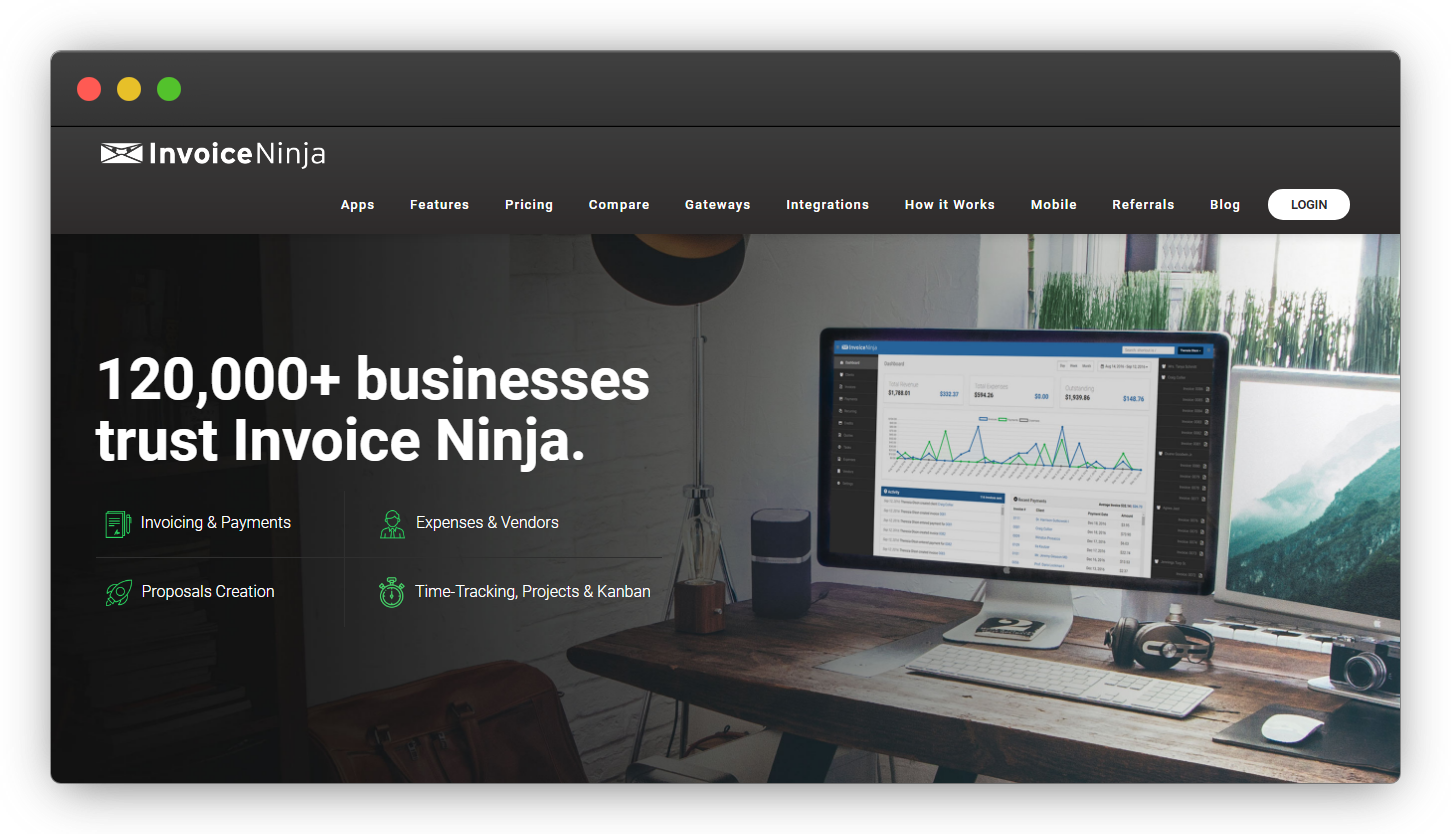 Invoice Ninja is an open-source platform for invoicing, billing, and payment management, designed to streamline and simplify the way freelancers and small to medium-sized businesses manage their invoices and get paid for their products and services effortlessly. It offers all of the features you need to manage your projects and handle invoicing and billing in a single tool. To speed up the payment process, clients can immediately pay users directly from the invoice, without having to exit the system. You can add clients, projects, and tasks to the tool to build invoices quickly. You also get a custom client portal where your customers can view all of their current and past invoices.
Features:
Create quotations & invoices create tasks, projects, and track time

Customize invoices with your logo

40+ payment options supported​

Accept deposits & partial payments

​Create recurring & auto-bill invoices

Build trust with a custom URL link

Professional invoice template design

Item & product library system
Invoicing software for businesses a key billing automation and digitization tool
Invoicing is one part of operating a company where every kind of business owner can certainly use some free support, especially if it offers a more efficient and cost-effective way to handle what usually is a laborious task. Choosing the right invoicing software makes it really easy to track positive cash flow, bill clients, and work with more efficiency without increasing the difficulty level or investment in infrastructure. The ability to choose an invoicing software naturally depends on your company's workflow, accounting processes, and requirements.