Billing software for different industries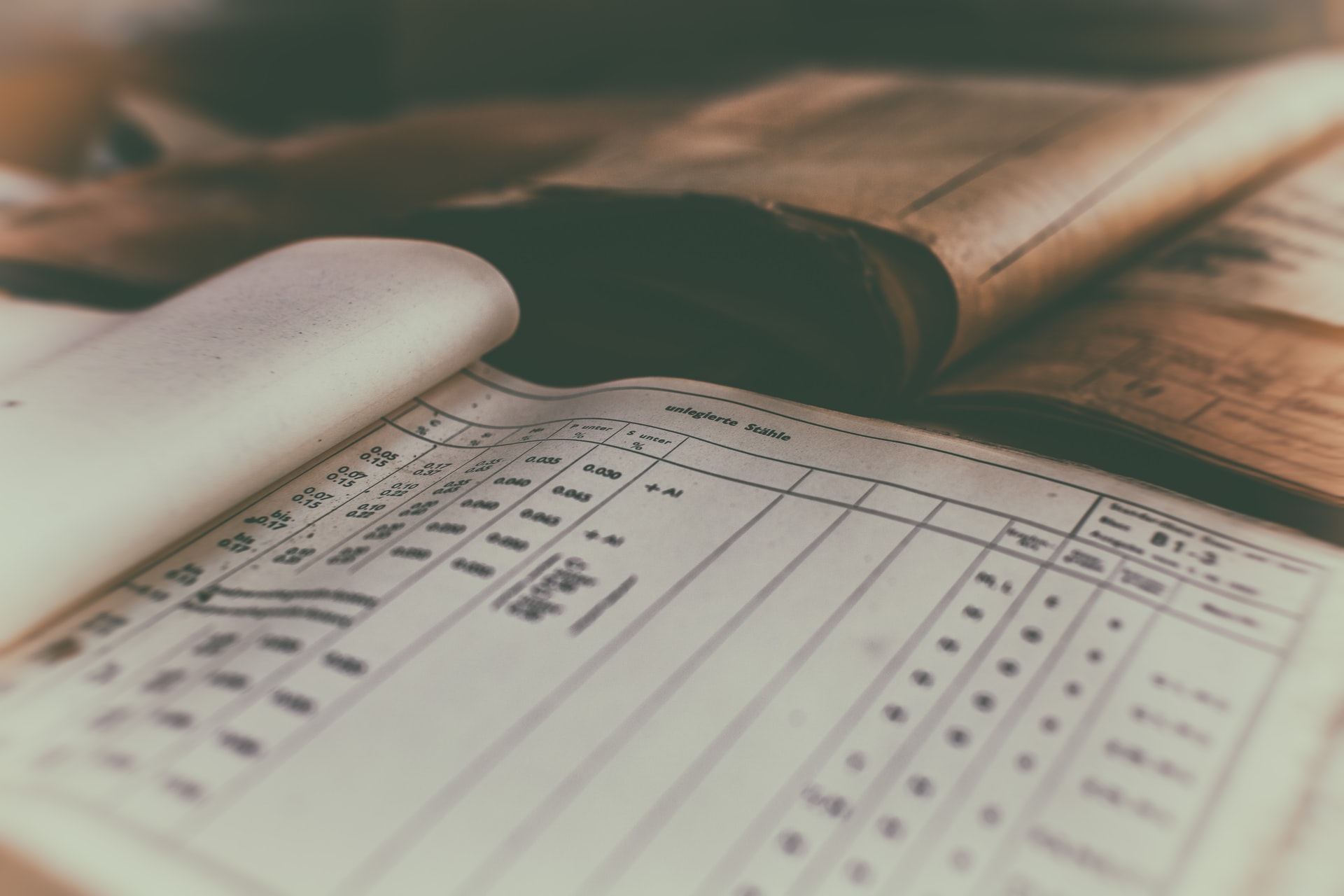 Billing tasks are the least exciting part of owning a small business but also at the same time it is one of the most important tasks. Companies all over the globe are looking for a perfect billing system to suit their needs, without billing and invoicing software it would be difficult for companies to understand the growth of their businesses and optimize the workflow.  For years small businesses have relied on manual billing processes wherein employees take care of sales tax management and purchase order management, while it is generally effective but one cannot deny the fact that it is prone to errors. Therefore, choosing the right invoice software becomes important for the growth of your business keeping in mind that different industries have billing and invoicing needs. There is nothing like a one size fits all kind of complete billing solution, one needs to have industry specific billing as every industry has something unique to billing and accounting method. For example a billing software that is the right fit for the travel industry might not be the right fit for law firms. A travel agent might want a software that will allow them to send out itinerary estimates to the prospective clients, on the other hand a lawyer might require a customisable billing software that allows them to track time. Choosing the right billing and invoicing software for your industry will ensure accuracy and timely billing, it makes the billing and invoicing process much more smoother. Here is a comprehensive list of billing softwares for different industries.
Billing And Invoicing Software for Travel & Tour Operator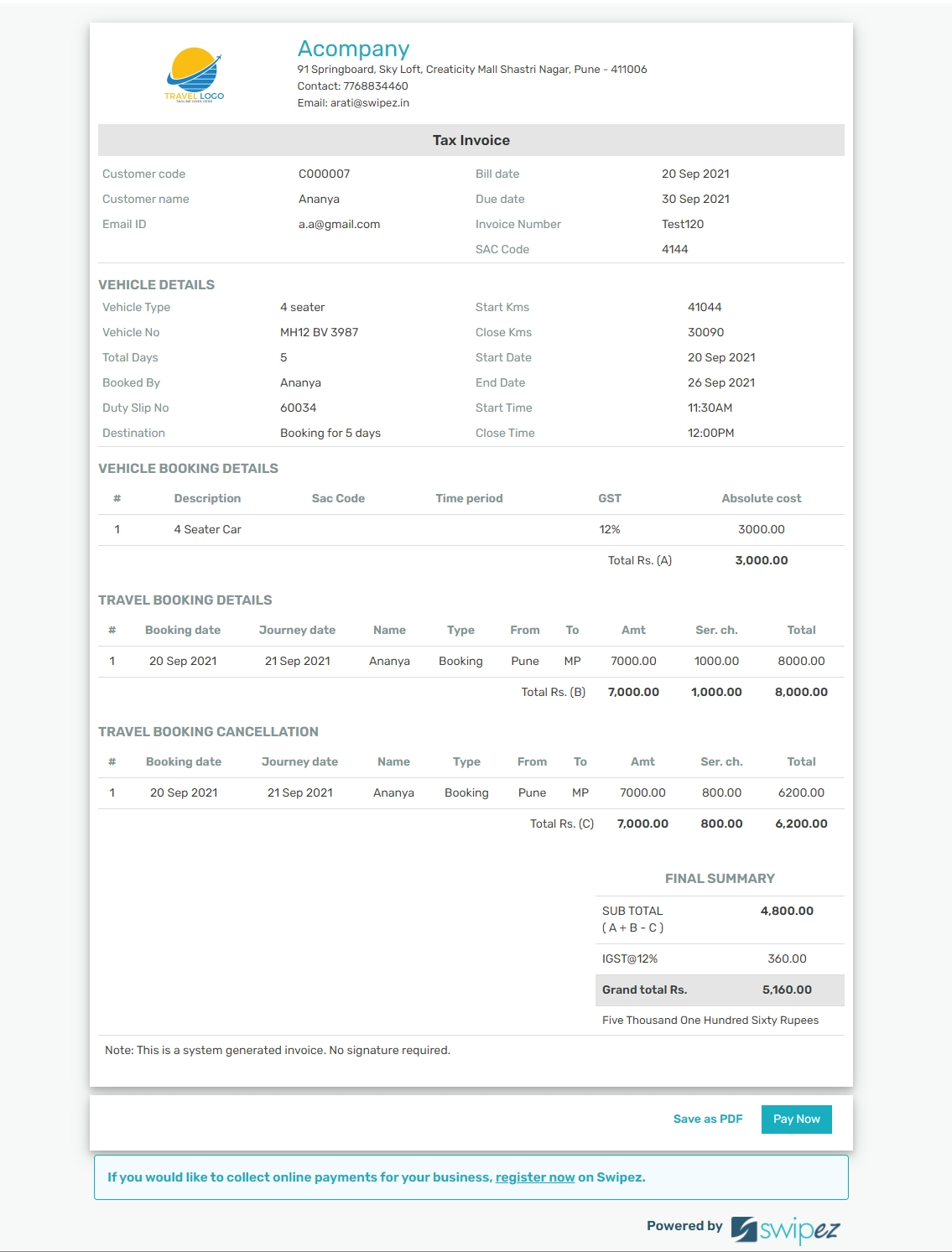 Billing software for travel and tour companies assists travel agents and tour operators by automating their everyday activities and reducing their manual effort. Given below is the list of a few reliable and cost effective billing software for travel operators
Swipez Billing Software for Travel & Tour Operator is a billing and invoicing software that is specifically designed to assist travel agents and tour operators to make their billing and invoicing system efficient. Swipez billing software for travel and tour operators comes with a lot of different features. Clients in the travel industry have different and varied requirements, the billing process can get difficult, as per customers demands. Swipez Billing Software for Travel & Tour Operators allows you to meet these requirements with ease.
Get a free account and organize your travel billingFree billing and GST software
It provides accurate invoice information that is required in the travel industry such as starting and ending kilometers for car rentals, starting and ending time of the journey, room details and details for modes of transportation (air, land or water). Swipez provides multiple invoice templates which can be customised for per the needs of your travel businesses. With Swipez's software you can send estimates to your potential clients, get notified through various channels when you receive payments from your customers, this helps you avoid delays in booking your customers trip. Swipez Billing Software for Travel & Tour Operators makes it easier for small business by allowing the businesses to use one dashboard to collect and disburse the money and to take a quick look into their payment collections and dues. It allows the travel agencies in tracking expenses both online and offline, thus reducing the risk of billing inefficiencies in the billing cycle and allows the team to get an up to date report of their business collection.
Billing And Invoicing Software for
Milk and Dairy vendors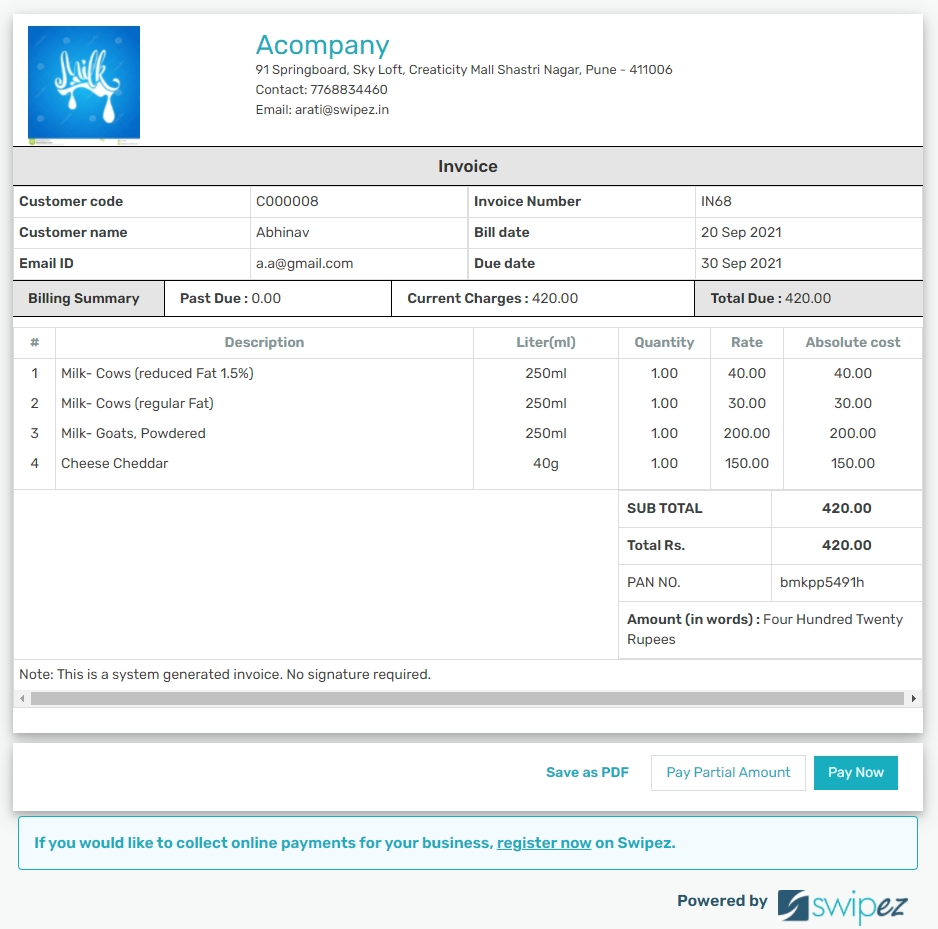 Swipez Billing Software for Milk and Dairy is specifically designed by keeping the milk & dairy industry in mind. It allows you to get paid faster and manage billing systems efficiently. With Swipez Billing Software for milk and dairy you can calculate the total amount automatically, it adds up the taxes and ensures the right customer is being billed. Avoid billing mistakes, and even errors occur it takes just a minute to fix it and resend your bill. The automated recurring billing feature for your customers allows you to raise monthly bills automatically at a set date.
Milk and dairy billing made simpleRegister for a free account
Swipez billing software offers your customers a wide variety of options to make payments such as credit or debit cards, wallets, UPI payments, bank transfers and others. Manual collection of monthly payments from your customers can take hours and is prone to error. This software can help you reduce the amount of collection manual feet on street collections work deployed for the collection process as the software automates the payment collection process. It helps in easy time tracking of collection and moreover also helps not only collect but also disburse money to your vendors and suppliers.
Billing & Venue Booking Software for Housing Society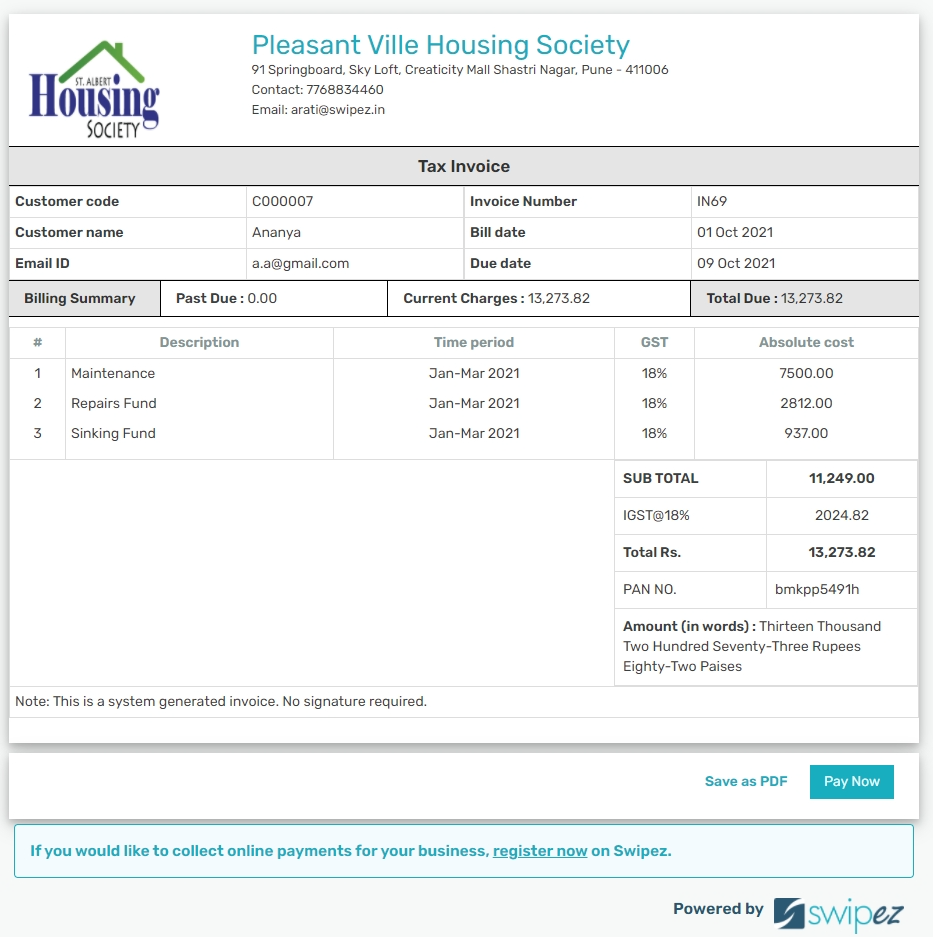 Organizing bookings and memberships are of prime importance for housing societies that provide amenities to the residents, and the clashes caused by overlapping booking of amenities is a major irritant. Swipez Billing & Venue Booking Software for Housing Society helps you create some intuitive pages for different events where you can display all kinds of information about your event, collect registrations and payments and much more. The same billing product can also be used for maintenance collections, you no longer have to manage multiple tasks such as sending out payments invoices, tracking the maintenance of housing society, sending reminders and others. All of these can be managed by Billing & Venue Booking Software for Housing Society by Swipez. Thus increasing the efficiency and improving the overall satisfaction of your society members.
Billing And Invoicing Software for Educational Institutes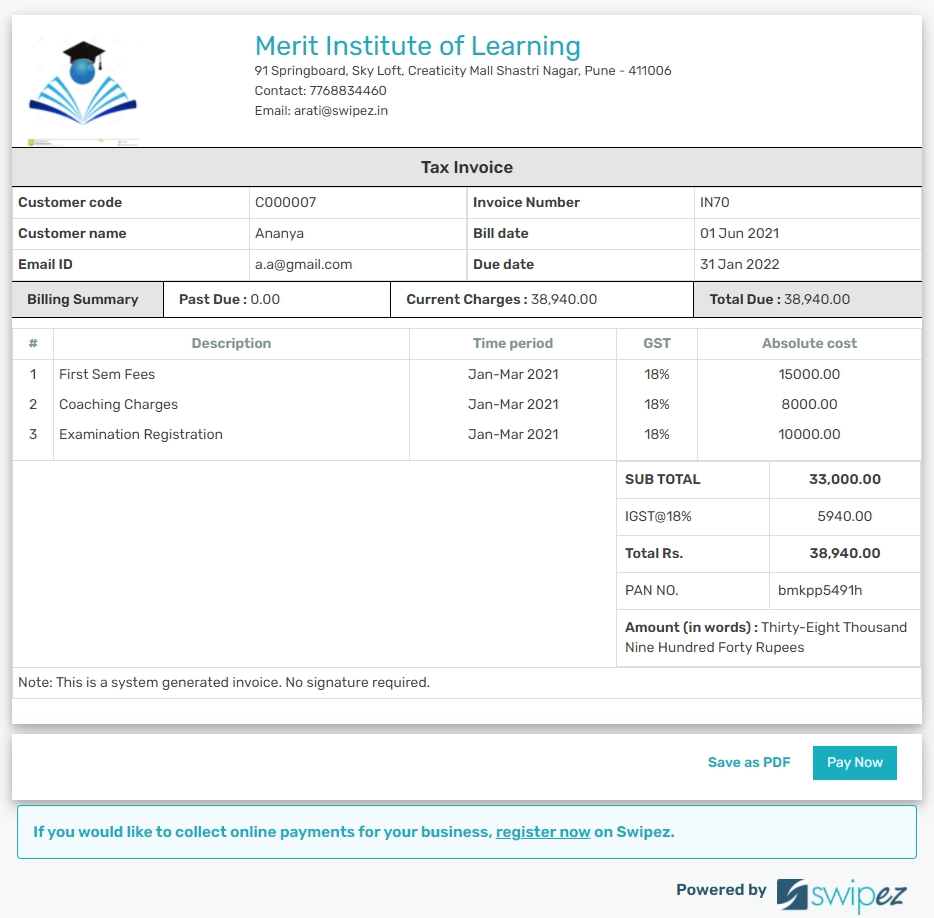 Swipez GST Billing Software for Schools & Educational Institutes is perfect to organize your billing, recurring payments and even students registrations for courses. The form builder functionality can help institutes collect a students course selection, information, enrollment documents and initial application charges without any intervention of the institutes administration, hence reducing the burden on their staff. Institutions can automate recurring invoices for semester fees and provide fixed discounts or apply for late fees fines. Follow up for outstanding payments can be simplified using automated & customisable payment reminders. Customers can make payments via multiple instruments; institutes can track online/offline payments.
Swipez billing and invoicing software notifies messages to students, parents and admin staff of payments and new bills. Swipez's billing and invoicing software for schools and institutes can help you raise invoices collect money and split payments between yourself and the franchisee, it can be specifically beneficial to institutes that have many branches in different locations. This billing and invoicing software can help you monetize your campus facilities by allowing you to secure time slot bookings for your venues. You can use the Swipez GST billing software for schools to set up a booking calendar allowing for bookings and payments for their unused campus facilities as well!
Billing and invoicing software for consultancy firms and freelancers
Swipez Billing Software for Consultancy Firms and Freelancers helps you manage cash flow smoothly by making it easier for you to send out customisable invoices and lets you know when your invoice has been paid. The beautifully designed invoices can help small and medium businesses present a professional front. It helps your clients to make both offline & online payments. The automated recurring payments feature helps in having clients that are billed on retainer basis. It helps freelancers and consultancy firms to predict their revenue and plan their future, and collect payments digitally from your customers by notifying them with friendly payment reminders. It is a web based accounting solution which allows you to get access from anywhere as long as you have an internet connection. It is a billing invoicing software which provides all the basic billing features, it gives you freedom to grow your business and still manage all the business processes.
Conclusion
Billing and invoicing software enhances your financial system and discipline which gives an opportunity for your business to grow. The above is a small guide that you can follow while choosing the best option for your small business. The softwares mentioned above help you in receiving payments, invoicing capabilities, time tracking of your bookings/orders, payroll management, bank reconciliation and others. Billing and invoicing softwares are your one stop billing solutions that make your life easier.
Get a free account save time and effort on billingBilling with online payments